Fine Cut Polish - 500ml.
A fine cut and high gloss polish for use on fresh and cured paint. Capable of removing 2000 grit sanding scratches and for use on automotive paints, marine gelcoats and composite surfaces.
Silicone, wax and filler free.


Capable of removing P2000 grit sanding marks.


Capable of removing minor defects and oxidisation.


Designed for Ceramic and Scratch resistant Clearcoat.


Water based and Biodegradeable.


High Gloss


For best results use the
Liquid Shine Turquoise Fine Cut
polishing pads.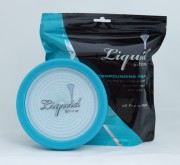 Comes in innovative foil sealed packaging for easy dispensing. Plus colour coded to the correct polishing foam for ease of use.
See the
Liquid Shine web-site
for more info.
1 x 500ml pack supplied. Made in the UK.