Zero Swirl Finishing Polish - 500ml.
A very light cut, and very high gloss finishing polish for use on fresh and cured paint. Use to eliminate swirl marks, and marring or holograms from heavier compounds. For use on automotive paints, marine gelcoats and composite surfaces.
Silicone, wax and filler free.


Removes Swirl marks, marring and holograms.


Very high gloss finish (92-93 gloss units).


Suitable for use by hand too.


Water based.


For best results use the
Liquid Shine Red Zero Swirl
polishing pads.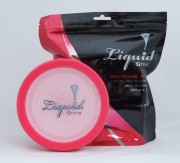 Comes in innovative foil sealed packaging for easy dispensing. Plus colour coded to the correct polishing foam for ease of use.
See the
Liquid Shine web-site
for more info.
1 x 500ml pack supplied. Made in the UK.